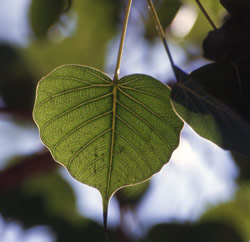 Once the Buddha asked monks: "Suppose that a man were to come along carrying paints of lacquer, turmeric, indigo or carmine lac, saying, 'I will draw pictures in space, I will make pictures appear on space.' Now, what do you think — would he draw pictures in space & make pictures appear on space?" Monks answered: "No, Venerable Sir. Why is that? Because space is formless & featureless. It's not easy to draw pictures there and to make them appear. The man would reap only a share of weariness & disappointment." Then the Buddha admonished that in the same way when we encounter anger and harsh speech, we should train ourselves to make our mind a sky (spacious and retaining no trace of bitterness).
Read More
"By effort and heedfulness, discipline and self-mastery, the wise one makes for himself an island which no flood can overwhelm."

Dhammapada 25
These days we hear a lot of discussions on addiction. People talk sadly about the harm that addiction to various substances (alcohol, cocaine, nicotine) can bring to people's lives. Why people start to use these substances? There could many reasons for this. But we should understand that our mind is vulnerable to get into an addiction if we do not develop an inner source of satisfaction. When we completely rely on sensual gratification as a way of being happy in this life, we will not find a full satisfaction. No matter how fascinating they are, we do not feel enough at the end of such a gratification.
Read More